Our shows include:
The SHAFTAs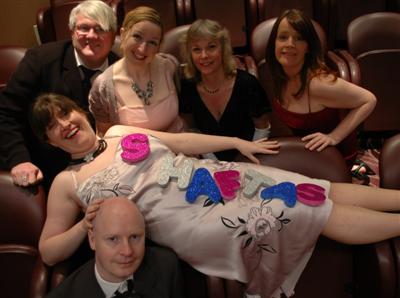 Join Jonathan Woss and Davina McCool at the prestigious SHAFTA awards ceremony 2010, as the Who's Who of D list celebrities struggle with their pride, nerves and valium. Find out who wins the nice n' shiny trophies symbolising public acceptance and outstanding achievement. Who is worthy of a SHAFTA?
With nomination categories including 'Most hirsute talk show host', 'Best celebrity death' and 'Who my mum fancies off the telly, no not him, the other one.'
Review comments from previous shows include "snappy direction", "masterful sound-score", "a cultural collage with charming observation" and "local people laughing at their local lives".
The show is 1 hour 20 minutes, plus a 15 minute interval.
The show had a successful run in London's West End (August 18th to 21st), and then a single performance in Reading on Friday 8th October 2010, which raised £300 for Hospital Radio Reading.
For more information about The SHAFTAs:
The Thames Valley Pop Up Sketchbook
Performed at Lovibonds Brewery, Henley, from Wednesday 22nd to Saturday 25th July 2009 as part of the Henley Fringe Festival.
For some YouTube clips, click here
Around Reading in 80(ish) Minutes
Performed at South Street Arts Centre, Reading, on 18th October 2008 as part of the Reading Comedy Festival.
For some YouTube clips, click here